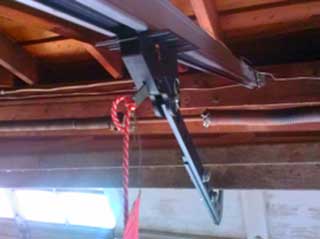 Have you ever stopped and wondered how your garage door opens and closes? Probably not, it's probably just one of those things you take for granted. The heavy-duty springs are the parts that take all the strain. Unfortunately, as tough as they are, they don't last forever. When the springs eventually break, replacing them is a job for the professionals.
Don't Get It Wrong!
When doing their job effectively, garage door springs are under terrific tension. Carrying out maintenance on these components is a complex task that requires the right tools for the job. Install them incorrectly and you're playing Russian roulette with anyone that goes near them.
Identify Your Springs
Your garage door is opened by one of two methods. First is the torsion spring. These tend to be on recently installed doors. This type of spring works by twisting rather than stretching and is considered to be more flexible and durable. They do however require more space above the door, which can make them unsuitable for some installations. The second type is the more conventional-looking extension spring. These types of springs are installed in pairs and are under considerable strain when the door is fully opened. For this reason, they are considered the more dangerous of the two. You will very often see them fit with safety cables to limit whiplash in the event of a spring breaking.
Not Everyone Enjoys A Spring Break!
As tough as spring steel is, it's not unbreakable, but the life of these units can be extended with the type of professional maintenance offered by Garage Door Repair Centennial. We are experts in our field and offer regular lubrication and adjustment services guaranteed to increase the lifespan of your springs. Contact our local team now to make an appointment. Remember, we are your first call for emergency garage door spring replacement or repair!
Our team can also take care of:

Emergency Release Repair

Belt Drive Opener Installation

Overhead Door Repair & Installation

Maintenance Garage Door Torsion Spring