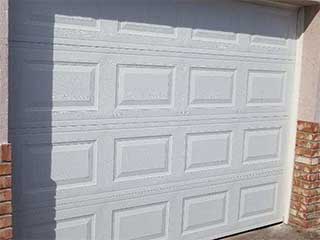 Garage doors not only allow you to come and go easily while keeping your car, belongings, and home safe, but they're a big part of the first impression your home makes on visitors! Make sure your door works and looks it's best thanks to our professional services.
Professional Roller Repairs & Replacement
The rollers in the tracks of your garage door are what allows it to slip up and down smoothly and easily when it opens and closes. However, over time they can become damaged both from wear as well as rust and other troubles. If you've noticed that your door doesn't move as well as it used to, the issue may be because of them. That's where expert repair services come in! Our team can repair these rollers, or if the damage is bad enough, replace them with new ones. Rather than try to handle it yourself and risk creating more strain on your system, just allow the professionals to take care of it before you know it and for a fair price as well.
Fast, Easy Panel Repairs & Replacements
Your garage door is a big part of the front of your home, which means it's instrumental in how lovely your home looks overall! Make sure that it's at its best with our panel repairs and replacements. Panels can become scratched and dented over time thanks to the elements, as well as accidental car bumps. There's no need to get a new door altogether when the panel itself can simply be tended to! Our experts can either repair the panel, or get it replaced with one of the approximate size and color. No one will ever know the difference once it's over with! It'll be like it never happened and your home will be able to wow neighbors and visitors alike again in no time.
There's No Need To Wait
Our experts are here and ready to go as soon as you need us to get right to work on your garage door! Call Garage Door Repair Centennial today to find out more about us and schedule your appointment. You'll be glad that you did!
Let our team take care of it for you!

Fix Rollup Door

Damaged Parts Replacement

Garage Door Safety Inspections

LiftMaster Garage Door Opener Repairs