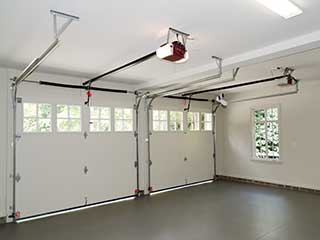 In order to ensure a safe and smooth operation, your garage door system relies on a properly functioning opener. Our professional team in Centennial strongly recommends you have your electric opener maintained on a regular basis to keep it in good condition and get the most longevity out of it. Once a repair is due, you can count on our crew to handle the situation with expertise.
Correct Opener Installation
If you need to have a new garage door opener installed, give our expert technicians a call. Don't attempt to do this by yourself as poorly done installation can lead to expensive repairs down the road and can render your entire system out of order and unsafe. Our team has the right tools and skillset to install any type of opener in a correct, safe, and prompt manner.
Comprehensive Maintenance Services
Besides installations and repairs, our team also specializes in garage door opener maintenance. You can maximize the lifespan of your unit by hiring our experts to have a look at your opener's components, including the electrical outlet and wiring. They'll also test your system, including auto reverse and remote, and ensure the electronic eyes are aligned properly. If needed, our technicians will also lubricate the moving parts of your system and do everything in their power to maximize the longevity of your motor.
Remote Control Services
Your garage door remote removes the need of getting out of your car to open and shut the heavy door every day. It's a nifty device, similar to your TV remote, which sends an infrared signal to your opener, triggering a switch that operates the door. When things go wrong with your opener and it develops a fault beyond the dying batteries, give us a call. We can set and reprogram your remote to strengthen your security system in no time.
Our company stands behind our commitment to customer service and the highest standards of excellence. For all your opener needs and more, look no further than our experienced team.
Count on our team for:

Fix Broken Springs

Garage Door Out of Track

Part Replacement & Lubrication

Garage Door Extension Spring Replacement